The current one is a complex and constantly changing macroeconomic phase in which the challenges for asset management are amplified. Customer needs evolve rapidly and along multiple lines, favoring more and more business models capable of integrating high skills, digitization and sustainability. In this context, the need for qualified consultancy is accentuated, as evidenced in our country by the constant growth of the bank model with a network of financial advisors. This consultancy approach, highly appreciated by Italian investors, has seen an increase in total assets under management of more than 10% in the last 5 years with still ample room for development and consolidation. In this scenario, Zurich Bank was born, the new financial advisory network, created following the acquisition by Zurich of the network of financial advisors Deutsche Bank Financial Advisors (DBFA), which presented its project at a press conference at the headquarters. of Zurich in Milan in via Crespi.
Alessandro Castellano was appointed President and Silvio Ruggiu General Manager. With 1,085 Financial Advisors, over € 16 billion in assets under management and more than 120,000 customers, Zurich Bank is already one of the most important networks in Italy.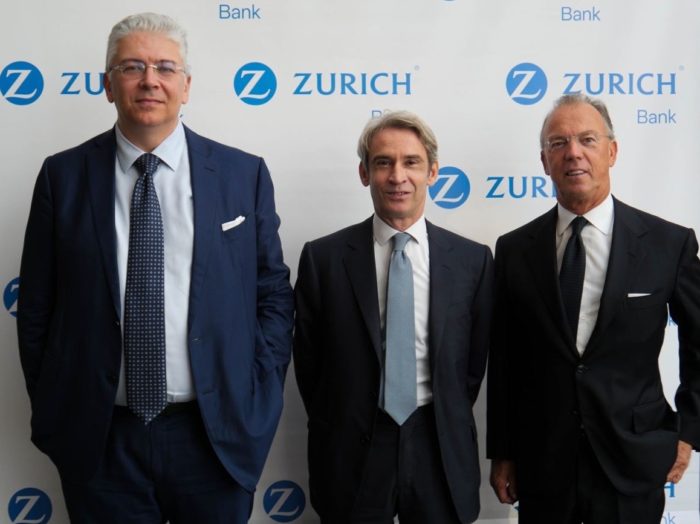 Giovanni Giuliani, Country CEO of Zurich in Italy, declared "150 years after the foundation of the Group and after 120 years of presence in Italy, Zurich enters the world of financial consultancy, confirming once again that it is able to understand and respond to historical developments and of the market. With Zurich Bank, a unique model in the country is born, capable of promoting the culture of protection – property and insurance – thanks to two capillary networks of expert professionals. From today there are 5,000 Zurich consultants in the area to support families and businesses ". In the intentions of the company, a press release reads "Zurich Bank's customers will have access to a modern and complete platform that will also leverage a digital approach with a broad offer, with the best investment, insurance, banking and financial services. available on the market, so as to integrate financial and insurance planning. The new network will enhance the Private and Wealth Advisory area which will be able to count on its own structure and its own dedicated brand identity ". Technology, digital innovation and scalability have been enabling factors for the construction of Zurich Bank and for the creation of new platforms for the benefit of financial advisors and clients. Zurich Bank looks at the challenges and great opportunities of our market with confidence and preparation, aiming to grow rapidly along four lines: the development of new products and services, digital innovation, the creation of an increasingly data-driven model, recruiting of new consultants.
Silvio Ruggiu, General Manager of Zurich Bank, expressed himself as follows: "We want to become the best network of financial advisors in the country, enhancing belonging to a leading global insurance group. We will manage our clients' assets with the same diligence and competence with which Zurich manages its investments and advisors will always be at the heart of our advisory model. In fact we will be highly digital but without being disintermediated ". The launch of Zurich Bank will be supported by a dedicated advertising campaign, created in collaboration with the creative agency Mercurio GP and the media agency Dentsu, on air from November on the main national television channels for a duration of three weeks as well as a campaign print and digital.