– Advertisement –
A Very British Scandal on TimVision on April 21, the 3-episode miniseries starring Clarie Foy and Paul Bettany
A Very British Scandal is the 3-episode auteur miniseries available for streaming on TimVision from 21 April. Ideal continuation of A Very English Scandalthe miniseries is written by Sara Phelps who took over from Russell T. Davies and this absence inevitably makes itself felt. Davies' ability to disseminate his tales of shrewd sarcasm clashes with the linearity of Phelps that comes from the adaptations of Agatha Christie's novels.
Not by chance A Very British Scandal is perfect in painting environments, situations, the relationships between the characters but the miniseries lacks that extra bit of bite, that touch of acidity that would have allowed it to go even deeper into the many themes dealt with. Sometimes a joke is enough to change the meaning of a scene. The miniseries chronicles the love between Margaret and Ian Campbell dukes of Argyll and their thunderous divorce, which destroyed the image of the woman portrayed as "Dirty Margaret".
When there was no Me Too
– Advertising –
Ian Campbell he is a spoiled man, the son of an aristocracy who lives on titles and not works, and passes from one heiress to another to try to subsidize his dissolute life and his utopian search for hidden treasure in a sunken ship and unattainable. When he meets Margaret she was just divorced, he was still married. Their love made aristocratic London chatter and then vanish as soon as you cross the doors of the Scottish estate recently inherited by the man.
Margaret she is a woman who does not know how to stay in a place designed by social conventions, she is not submissive, she is not aloof. She loves and likes to love. But for women this means being of easy virtue, with a stigma that is still difficult to eliminate today. So when Ian discovers her diaries and her decidedly provocative Polaroids, he publicly humiliates her wife, dragging her into a divorce in which she is portrayed as a lewd, sex addicted woman. And if it were still needed, A Very British Scandal in full was "Me Too", he restores dignity to Margaret, whose fault was that of not accepting the role assigned to her by her husband. Even the worst deeds performed by the woman were a reaction to her husband's private humiliations.
A Very British Scandal is Claire Foy and Paul Bettany
The added value of At Very British Scandal are Claire Foy and Paul Bettany. If we were to find them in a few months with a prize in hand, we certainly wouldn't be surprised. Both offer performances of the highest level, keeping the miniseries on their feet and filling the scene at every opportunity.
There English formula of 3 episodes, however, sacrifices the story, which at times is fragmented. If for other miniseries we found ourselves saying that 8 episodes were too many, in this case we can say that 3 are few. The miniseries would have benefited from a couple of more episodes, perhaps even to tell something more about the couple's marriage but also the post-divorce years. The first part turns out to be a bit too romantic and didactic in the story of the birth of love between the two. Precisely in this aspect, the absence of a more caustic hand in the script was most felt. But this is just so as not to give in too much to praise. Rated 8 Riccardo Cristilli
It is to be seen if …
A Very British Scandal is recommended for those who have seen its predecessor, A Very English Scandal, but also a recent series like Anatomy of a scandal which tells another type of scandal. For the rest, we recommend that you download the free app of TV Tips and to use the "Match" function after watching the series, with which you can discover the next series to watch, with advice related to your interests.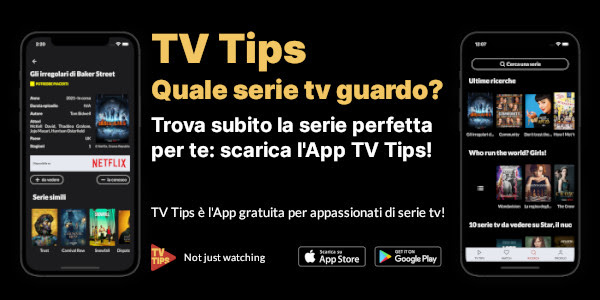 – Advertisement –