From America comes a monstrous pickup, the Apocalypse Juggernaut 6X6. That really promises top performance in all conditions.
In Europe, it has now started in a decisive way electric revolution. All brands have begun to change their price lists, initiating a transition that will lead, as required by law, to totally "green" production by 2035, with the gradual farewell to thermal engines. A decision taken by the EU which for the moment only partially involves sports brands who have made their super-powerful engines their trademark. But even these have already started a sort of handover, opening up to the production of models with hybrid engines.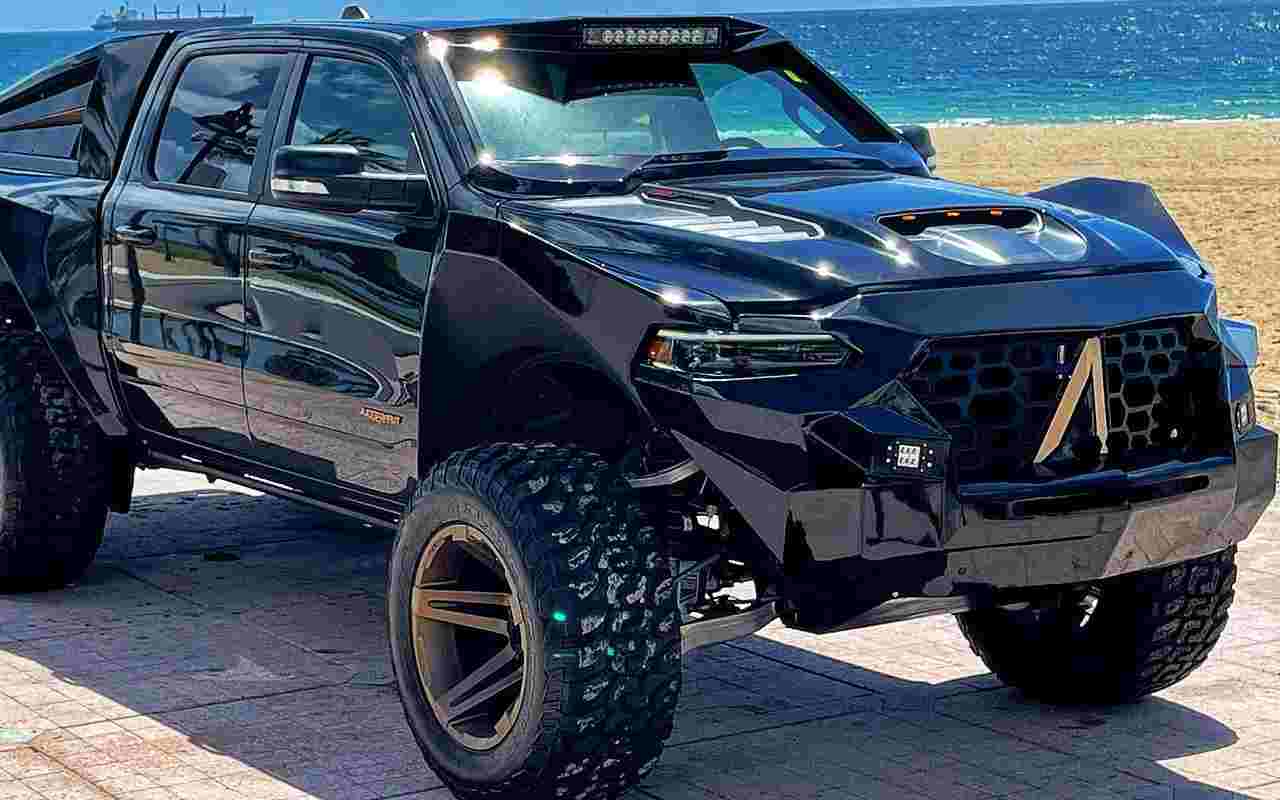 However, there is a market that will soon have to adapt to these new directives and that is the pick-up market. Yes, niche models but which still have their own why in many parts of the world, especially in America. Obviously here the overseas brands are the masters, with Hummer above all which has also begun to present electric variants, but also Jeep, which has recently revived an old classic like the Gladiator. While in Brazil it is Fiat that has launched into this segment with the Toro, which should make its debut shortly.
The novelty, however, is represented by a pick-up that is scary already from the name, Apocalypse Juggernaut 6X6. A real monster on six wheels that is nothing more than a RAM 1500 TRX modified and powered by 6.2 V8 Hellcat engine and which features a high performance cooling system which is ideal for hot weather and desert use.
Apocalypse Juggernaut 6X6, a monster in every sense
The name already makes it clear what it is: Juggernaut in fact means devastating fury, unstoppable force, avalanche, colossus, bison, in addition to the simpler articulated lorry. And it's just a lot like a big truck for every day or almost this new product from Apocalypse.
The structure of the Apocalypse Juggernaut is truly impressive, starting from front that has a sort of honeycomb grille that covers the huge radiator behind it. Right here stands the equally large logo of the manufacturer, which seems very much to recall the Cupra brand. The headlights and fog lights give the impression of having been forcibly embedded within a very angular "face". But the lights do work. And if that weren't enough, above the glass there is another strip of lede that can be turned on if necessary. Particular then the wheel arches, which rise and tend to reveal the huge wheels that are below 40 inches. The loading area is closed upwards with a remote-controlled electric roller shutter. Under the tailgate with large Apocalypse 6 × 6 lettering is a steel bumper, which is somewhat reminiscent of the Ferrari Testarossa.
The 712 hp engine of the Apocalypse Juggernaut receives a juicy performance boosti thanks to a new air intake system and the installation of a dual-flow exhaust with a thick exhaust pipe on the right and left. We thus move on to 862 CV really thirsty. Suffice it to say that there is also room for a 379-liter tank (on request). The towing capacity is nine tons, which is simply monstrous.
But it's not just a muscle car. The interior is indeed luxurious for the car genre: Apocalypse Manufacturing has given its Juggernaut leather interior with heated and air-conditioned seatsie the "largest rear seat in the entire industry". A panoramic sunroof it should further enhance the sense of space inside. Then stands a twelve-inch touchscreen infotainment system to which an audio system from Harman Kardon is connected. The apocalypse Juggernaut has several cameras: one of them sends a corresponding image inside as a replacement for the rearview mirror.
The price? 300 thousand dollars, practically a medium-sized apartment or a small villa. Not really for everyone. But do you want to put satisfaction in driving a six-wheeled monster on the streets?