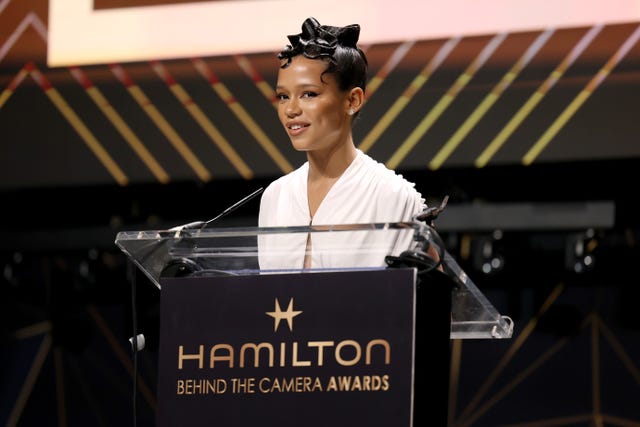 Phillip PharaohGetty Images
«Cinema has become part of our universe naturally. For decades we have supported industry and major productions with our watches, inseparable from the characters and their stories. The film crews are the driving force behind these characters – we greatly appreciate their talent and celebrate it with the Hamiltons Behind the Camera Awards». Vivian Stauffer, CEO of Hamilton International, has no doubts about the added value that behind-the-scenes professionals confer – often far from the spotlight of celebrities – on the magic of cinema. So much so that the watchmaker has been supporting these much-loved Hollywood awards for 12 years now. Far more remote, however, is her liaison with the seventh art, inaugurated by the beauty 90 years ago on the set of Shanghai Express.
Not that the best-known categories are missing from the BTCAs – such as screenplay or direction (which this year saw our Luca Guadagnino for Bones and all) – but it is the focus on figures such as the property master, the set decorator, the craft achiever that makes them so peculiar and interesting. What the winners have in common is mostly a mixture of pride and disbelief, while the guests at the tables enjoy the roundup of awarding stars: this year, for example, there were, among others, Viola Davis, Carey Mulligan, Jaimie Alexander and Daniel Henney, ambassador of the watchmaker who supports the event. We were there too Elleand we intercepted on the red carpet the very good Marci Rodgers, an African-American from Chicago, awarded for the beautiful costumes of Till. Her iridescent look does not go unnoticed: «I sewed it myself», she explains in the warm Los Angeles night, «at home I have fabrics, swatches, buttons and ribbons. Frankly, I never expected to find myself here again tonight: I chose Till out of love and not out of convenience.
In what sense, excuse me?
I was born in Chicago and knew the story (in 1955, after young Emmett Till was murdered in a brutal lynch mob, his mother vowed to bring the perpetrators to justice by exposing their racism, ed.). Even while I was studying at the university, I was about to plan a film on the subject. Six years later this script came along.
How did you work on the costumes?
I went back to Chicago and spent a lot of time wandering the streets listening to the music of that period, I wanted to try and get into the mood.
Did you do a lot of research?
I got hold of several books on the fashion of the time and some contemporary catalogues. I wanted to make sure I was picking up on certain common vibes, a mix of hope and pain at the same time. This is usually how I get into projects. Then I create a playlist and let it circulate in my brain.
The biggest hit?
This is my boy by Abel Korzeniowski, the author of the film's soundtrack. Actually there was also my father's hand in my personal playlist. He added several jazz and gospel songs.
What was Emmett's mother like?
A delicate woman, very elegant. She had access to fashion because she was a member of the African American community with a good job at the time.
In the film Mamie often wears jewels…
Yes, mostly in rhinestones, I've never seen her with pearls: she wanted to distinguish herself from the elders of the community. But he was also very particular about bags, watches and hats. The Tills were a very decent family. They dressed well, Emmett's father wore spats, and Emmett himself was spotless, like a little man. In short, they cared a lot about their appearance, their integrity.
What value do accessories have in outlining a character?
They are essential to better define not only the personality, but also the age. I like to use pearls when I dress older women, because they are precious: whoever has them takes care of them, wants to pass them on to their children. I love them very much: they represent a kind of emotional texture, an extra peculiar layer on the costumes. Jewelery almost always speaks to the wearer.
What about the watches instead? Do you use them often? And how do you choose them?
Well, watches are a bit of a thing unto themselves. I usually talk about it with the actor or actress who will have to wear it to understand her tastes and feelings. Then I also chat a bit with the director: what can this character afford? Is there a story behind the clock? Sometimes I simply match it with the dress, in which case there's not too much to think about…
As a costume designer, is there an era you would like to live in?
I would say between the 20s and 40s. Women's fashion began to change, while always remaining very elegant. |
Till is a film with a strong social value…
Yes, because the protagonist chooses to take on the burden of exposing her pain, to come out to create a change».
Is there a message that particularly struck you?
The total, undeniable and irrepressible love of a mother. In these uncertain times it means a lot.