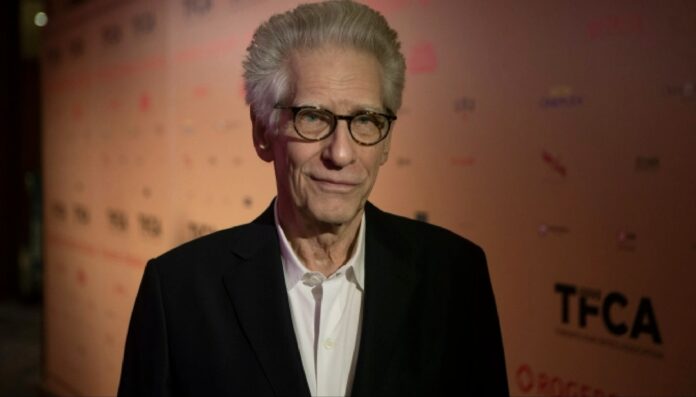 David Cronenberg has been a pioneering horror director for more than 50 years, almost 8 years after his last film, he now seems to be returning to his origins with an opera, Crimes of the Futurewhich promises to surprise the audience of the 75th Cannes Film Festival, where it will shortly be presented in Competition with an extraordinary cast including Viggo Mortensen, Léa Seydoux And Kristen Stewart.
Creator of a genus called body horror, Cronenberg he carried on a narrative strand that united terror and science fiction with the exploration of the universe of physical and genetic mutations and at the same time explored the human anguish in the face of the reckless use of scientific progress on the body. With The fly (1986) reached the pinnacle of success, while between 1996 and 2014 his films, such as Spieder, A History of Violence, Cosmopolis And Maps to the Starswere selected in the competition, earning even a Special Jury Prize in 1996 for Crash.
Cronenberg back now to Cannes 2022 with Crimes of the Futurea film in which the echo of his work, especially that belonging to its first phase, seems to resonate strongly in the story of an artist who uses surgery as a performance tool for his shows.
READ ALSO: Crimes of the Future by David Cronenberg Restricted to Minors (trailer)
Interviewed by Deadline, the director talked about his inspirations and his interest that always oscillates between psychology and the most carnal physicality.
"For me, psychology is carnal – he said Cronenberg –, so it doesn't seem that different to me. Basically, I'm returning to a kind of directing that I haven't done in a while. And the feeling is that there is a new audience for a film like Crimes of the Future, which didn't exist when I was shooting my last three or four films. So, it's my return to the flesh".
Crimes of the Future takes place in the art world, a theme already touched upon in Videodromebut not fully explored.
"[Il tema dell'arte] it was also evident in Scanners – explains Cronenberg –, actually, where there is a sculptor living inside the head he created, as you may recall. Hence, the art world has never been far from my sphere of competence. I really avoided having an important character who was an artist, but with Crimes, it's a very specific kind of art, a very carnal kind of art. Basically it is one surgical performance art. So, it brings together some of the themes of the things I've been dealing with. I am always interested, like, I suppose, any writer or director, in the creative process and in focusing the lens on it. It is an honorable thing. Many, many directors have made films about cinema, or about writers, about sculptors. So, this is my very particular version because I invented an art form. Not that performance art didn't exist, of course it did and is still thriving. But in my film, it's an invented environment. So, it felt very natural to me when I was writing it all those years ago. And when I revisited it, obviously from a very different perspective, it still felt quite doable, rather juicy".
Viggo Mortensen he plays the protagonist Saul Tenser and in the film he is engaged in a project that Cronenberg describes as follows: "Saul Tenser is particularly focused on his human condition, like most of us. And in particular this focus is on his body, his own body, and on the potential for creativity that his body seems to express. And this is an interesting reversal of the normal process of artistic expression. This is the trick of the film, that aspect".
The works of Cronenberg they seem to have in a sense ahead of the times and announced a reality very similar to today's, but the director comments on the responsibility that this perception has on him: "as an artist, it is, ironically, very liberating to think that you have no influence on anyone. As an artist, you have to accept that. I think it is a big mistake to think that you will change the world if you are an artist. A big mistake. First, it's not realistic, as history has shown. And then, secondly, it would really start to inhibit you. The fact that art can influence people is undeniable, but the way it does so, and its power, is totally up for debate and totally varies in context and so on ". And he adds: "Basically, I feel like a benign creature in the universe and, therefore, I assume that my creativity will produce benign results. Now, whether that's true or not …".
About his return to Cannes and the possible reaction of the festival audience to the strong themes of his film Cronenberg comments: "I'm not nervous. I can't wait because when you make a film you do it to make people react. And, as usual, and I've said this many times, I don't make a film to shock people or attack them. I'm just saying, 'These are the ideas I had. These are dreams that have troubled me. I show them to you. You can interpret them as you wish '. I don't think we will have a similar reaction to the one he had Crash. For one thing, there is really no sex in the film. I mean, there is eroticism and sensuality, but, of course, part of what the film says – and one of the characters says it very directly – is that surgery is the new sex. If you accept it, then yes, there is sex in the movie, because there is surgery! Hence, people might be put off by this. There are some very strong scenes. I mean, I'm sure there will be defections within the first five minutes of the film".