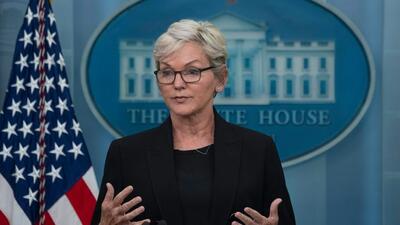 Pushing the EU to break off energy relations with Russia is having serious negative repercussions on the American gas and petroleum products market. US producers had to replace Russian production, but this put pressure on the US market. The quantities present are sufficient and therefore in the USA there has been a noticeable increase in prices, both in natural gas, almost always at their highest levels and also on fuels there have been strong increases.
This forced Biden's Secretary of Energy, Jennifer Granholm, to step in with a letter pleading with seven large refineries to limit fuel exports. The WSJ obtained a copy of the letter (see below) which the Administration did not make public, but which was later leaked courtesy of Javier Blas dthe Bloombergs and others.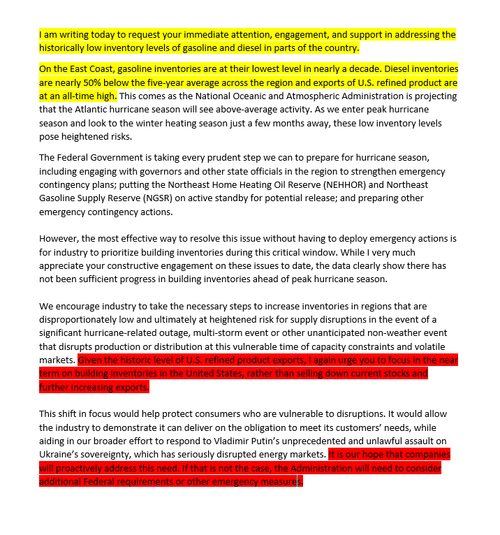 Granholm warned that gasoline stocks on the east coast are at their lowest in nearly a decade and that diesel stocks are nearly 50 percent below the five-year average across the region, not to mention strategic stocks at their lowest.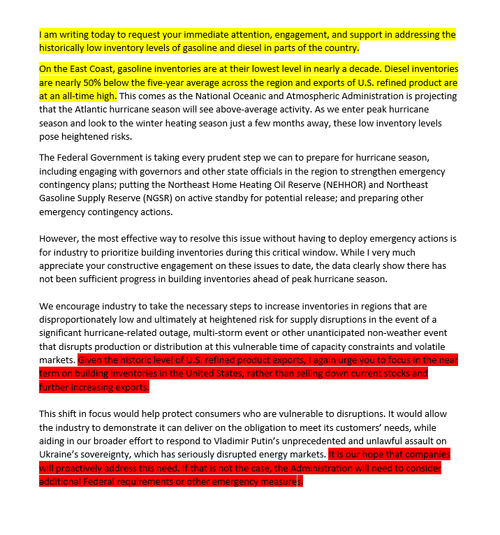 "Given the historical level of exports of refined products to the United States, I urge you once again to focus in the short term on building inventories in the United States, rather than selling current inventories and further increasing exports.", Writes the President.
"We hope companies proactively address this need," he adds. "If not, the Administration will need to consider additional federal requirements or other emergency measures". In New Jersey they call it an offer that can't be turned down.
As the WSJ notes, this is a political escalation from President Biden's June order to refiners to immediately lower gasoline prices. As median gasoline prices nationwide dropped to $ 3.88 from about $ 5 in mid-June, the President took a media victory tour. However, the drop in prices is largely due to the fact that the market was expecting an impending recession, which is hardly worthy of a victory tour, and in any case Biden can thank the Americans for driving less.
However, fuel storage levels are running low ahead of the hurricane season, when it is not uncommon for Gulf Coast refineries to be damaged or closed. The administration fears a refinery outage that will spike fuel prices ahead of the November elections. Hence the threatening letter from Granholm.
Too bad, as the WSJ explains, the problem is not US exports, but the political and regulatory assault on US production and refining. One of the culprits is the closure in 2019 of the Philadelphia Energy Solutions refinery, which took away about 335,000 barrels a day of refining capacity from the Northeast. This has made the region more dependent on Gulf Coast and overseas refineries.
In addition, fuel storage levels would be much higher in the Northeast were it not for the blockade of New York State pipelines, which has made the region more dependent on oil for energy. A third of New Englanders still use oil to heat their homes, and New Yorkers are generating more electricity from oil this month than from solar or wind power.
The funniest, or most dramatic, thing is that the US first pushed its European allies to break with Russian oil and gas by promising substantial aid, and then left it to themselves by asking the refineries to cut exports. A situation that puts Europe in further difficulty, now at the limits of its energy resistance.
---

Thanks to our Telegram channel you can stay updated on the publication of new articles of Economic Scenarios.
⇒ Sign up immediately ⇐
---