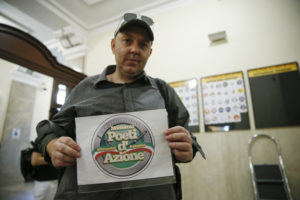 There is the "party of madness"But also that of"Action poets". There are 70 symbols presented so far at Interior Ministry for the elections of 25 September. 25 on Saturday are added to the 55 already deposited yesterday, while the deadline is set for Sunday 14 August at 4 pm. Pierluca Dal Cantodefined "the ugliest symbol"Of this election: one series of black lettering on a white background, among which stand out "no to the forensic case", "no guinea pigs", "no digital paper", "no electronic money". A mark designed specifically to compete for the ugliest prize. The name of the "party" is Movement for the establishment of Christian scientific socialism – No forensic case.
Among the symbols of the main parties, however, Giuseppe Conte has personally filed that of 5 Star Movement. The symbol is the known one, the words'Movement' with the five stars drawn. "Did you see that beautiful red heart? Instead we put the courage in it ", said Conte, putting up the symbol himself on the bulletin board. In the logo, as anticipated, there is no name of the former premier. When asked where the 5-star leader will apply, if at the Room or in the Senate, With you he replied: "We will let you know shortly". The symbol therefore covers station 74 on the bulletin board.
In the last few minutes, the symbols of Fourth poleSouth American Union of Italian Emigrants, which occurs only in South America, Italian Federalist Party, Alleanza Verdi e Sinistra, declined in three languages, Più eco, Italia II civilization science beauty, Liberal value. And then also that of Brothers of Italy: Giorgia Meloni ignored the requests of Liliana Segre and the Democratic Party and left the traditional tricolor flame in the logo of his party, while his name is visible at the top. And if Lega and Forza Italia had chosen Friday to deposit their logos, today an Fdi executive presented the unique symbol of the center-right for foreign constituencies. The unitary mark, presented today at the Viminale by an FdI executive, is the same as in 2018 with the names of the three leaders lined up – Salvini on the green strip, Berlusconi in blue on a white background, Meloni on the red one – and at the bottom the symbols of Lega, Fdi and Forza Italia.
Enrico Letta, then, he announced his intention of wanting to deposit the symbol of the Democratic Party on Sunday. Instead, the dems deposited their logo in the late afternoon: the mark is the classic one, that is the initials of the party, with the olive branchand at the bottom the inscription 'Democratic and progressive Italy. The symbol on the bulletin board of the Democratic Party ends at number 75, immediately after that of the 5 stars.