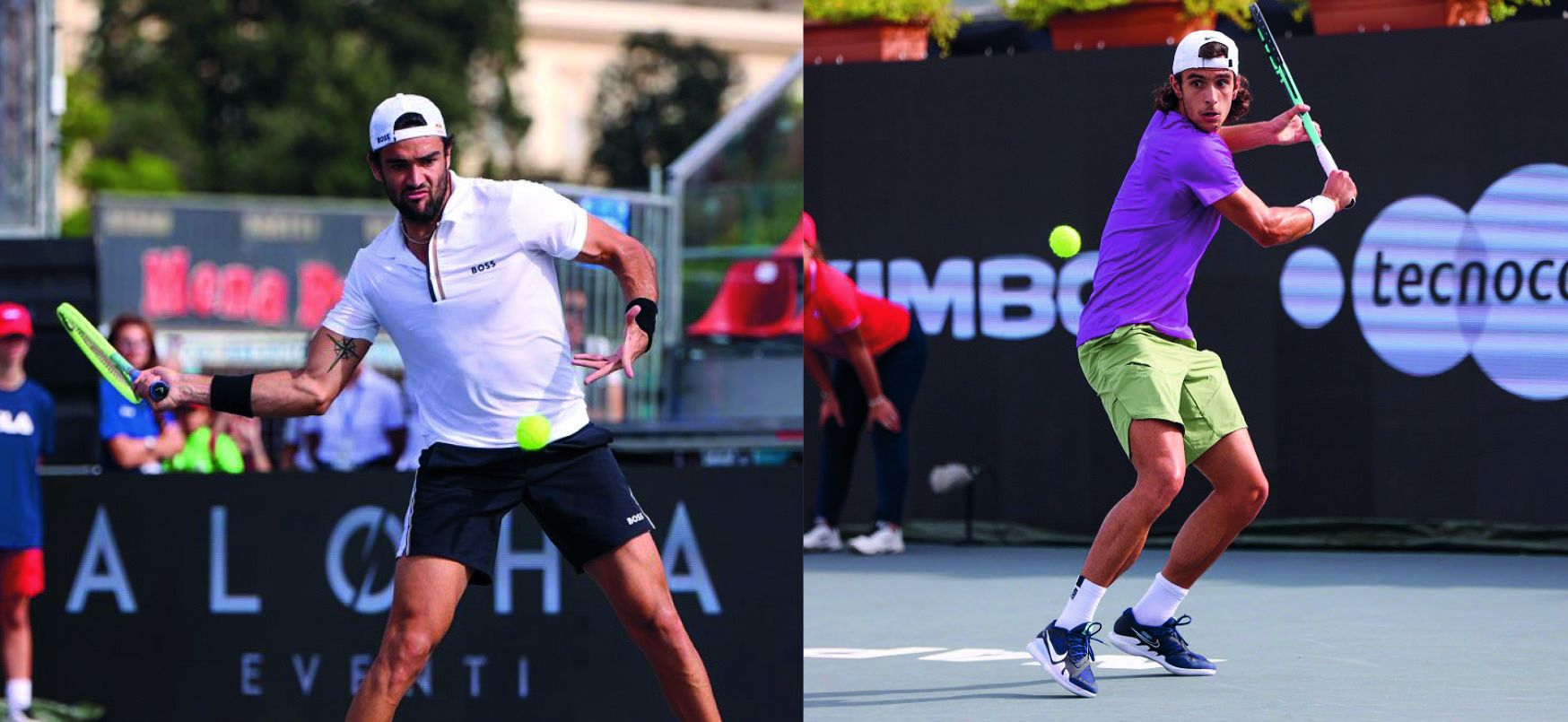 We are ready for the very Italian final of the ATP 250 in Naples. We have difficulty choosing who to cheer for in this match that gives prestige to our tennis: we will not be unilaterally lined up, but we will follow sitting on the 'neutral' sofa, on which we will jump balanced at all the good shots, the 'drittoni' of Matteo Berrettini and the loose reverses by Lorenzo Musetti. Matteo starts with a problem in his left foot, accused already yesterday, but with professionalism he will play to the maximum even today: he has in fact declared that he is tired of retiring due to physical problems (remember the hand injury), many of which lately afflict our very young athletes. Naples is all heart for the Azzurri, and there it will help not to give up, until the end.
Lorenzo is very young, 20 years old, he is precocious like many champions of the new generation, strong-willed, concentrated, courageous, humble; he has a coach-second father, Simone Tartarini, who has been following him constantly since he was a child: like a powerful Hagrid, he is protective of his talented wizard Harry Potter, who in turn reciprocates him with respect, gratitude, affection. They are both simple, concrete people. Yet Lorenzo 'Potter' is capable of magic. Flying here and there very light, he shows off class strokes with his magic racket, while his friend, now an opponent, defends himself well and attacks when necessary.
Matteo, the son of a tennis teacher, is a polite person, very close to his family. In Florence he played doubles with his younger brother Jacopo, the same one who as a boy convinced him to play tennis.
Initially, albeit through numerous breaks, the two blues proceed in a draw, with a competitive spirit but great fair play, as it should always be, between Italians and not only, engaged in a competition. On the stands the warm Neapolitan public, between a 'Forza Lollo' and a 'Come on, Matteo' enjoys the sun and, in the breaks, the view of that sea into which Fabio Fognini, a few days ago, dived to celebrate the victory against Grenier. We too, sitting on the sofa, put on sunglasses to better follow the graceful and elegant movements of the teenager and the powerful service of his twenty-six year old brother Matteo. Healthy competition, without acrimony, which pacifies Italian souls that are often too acrimonious and exacerbated. Extraordinary dribbles played under the eyes of parents and grandparents: the Italian family is now on the scene, in support of the children, who can always count on it. Recognizing each other's value, Matteo and Lorenzo compliment each other during the match: a behavioral model that we hope will inspire and inspire budding tennis players.
After winning the first set at Musetti's tie-break, we all hope to make it to the third set. The Neapolitan public in fact supports Berrettini after, at the beginning, he suffers a break also due to the physical decline due to the pain in the foot, which marks him psychologically. The chair judge, the young Spaniard Nacho Forcadell (the one of 'game Federer' – instead of Djokovic – in Rome '), has no major problems with 2 very correct players like the Azzurri, as well as the good line judges, who arrived very tired to the final, after the organizational problems of the first days. In the end Lorenzo Musetti wins, without getting excited: it is his second title after the 500 in Hamburg in July (final against Carlos Alcaraz). The two, once again 'teammates', embrace. The defeated wrestler Matteo Berrettini, who gave us so many emotions from Wimbledon onwards, with elegant elegance thanks, first of all, the whole family, present with his grandparents, and congratulates the winner, without even mentioning his physical problem. Musetti dedicates the victory to his coach, growing up with whom he has won a long series of challenges, since he was a child, and honors Berrettini, whom he considers a 'model in person' even off the pitch.
This is followed by our national anthem, a hope for a blue tennis future.
Musetti will already be in Basel tomorrow, where he will console us for the absence of Roger Federer; Berrettini will fly to Vienna instead (ATP 500 Open), then we will see them at the Masters 1000 Paris-Bercy and finally, in November, Italians reunited, teammates in the Davis Cup in Malaga.
Come on, blue team!
Gisella Bellantone