posted on 06/10/2022 18:09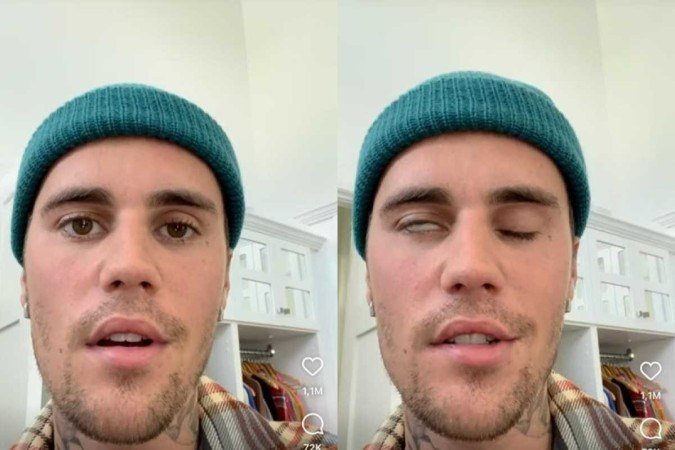 Earlier this week, the singer had already used social media to announce that he had to postpone his upcoming shows due to a worsening in his health – (credit: reproduction)
Justin Bieber used social media this Friday (9/6) to show that he has half his face paralyzed and that he suffers from a rare syndrome known as Ramsey Hunt.
Ramsay Hunt syndrome is an infection of the nerves in the face and ear that can cause facial paralysis. It is caused by the herpes zoster virus.
In a video posted on Instagram, Justin Bieber talked about the syndrome. "I want to update you on what's going on, obviously as you can see from my face. I have a syndrome called Ramsay Hunt, because of this virus that attacks the nerves in my ear and my facial nerves and has made my face paralyzed," he said. explains.
"As you can see this eye is not blinking, I can't smile on this side of my face, this side of my nose doesn't move. It's a total paralysis on that side of my face," describes Bieber.
"For those frustrated by the cancellation of my upcoming shows, I'm not physically fit to do them. This is pretty serious as you can see. I wish it weren't the case, but it's time to take care of my body and I need to take it easy. I hope you understand," said the singer.
"I'm going to use this time to rest and relax to get back 100% to what I was born to do. In the meantime, I need to relax to get my face back. Love you, thank you for being patient with me. I'm going to get better. I'm doing all the exercises for my face to go back to normal, it's just a matter of time, but we don't know how much exactly," he said.
"But it's going to be okay, I hope. I trust God and I trust that this is happening for a reason. I don't know what it is right now, but in the meantime I'm going to rest. I love you," Bieber concluded.
Watch the video:
postponed shows
Earlier this week, the singer had already used social media to announce that he had to postpone his upcoming shows due to a worsening in his health.
"I can't believe I'm saying this. I've already done everything to get better, but my illness is getting worse. My heart breaks knowing that I need to postpone these upcoming shows (medical orders). To all my fans, I love you so much and I will rest and be fine," he wrote.
The singer was diagnosed in 2020 with Lyme disease, a tick-borne infection. The disease causes flu-like symptoms such as fever, general malaise, lack of disposition, in addition to joint pain and skin lesions.