Singer Katy Perry was at this year's Met Gala, wearing a dress with a lot of cutouts in it and transparent by the brand Oscar de La Renta and told of an unusual and chic situation at the event.
Because of the dress she wears, she can't go to the bathroom and she still had brooches on her clothes: "It's not my first time (at the event), so I feel like I can relax. Last time I came to the Met, I was a cheeseburger, I loved it. So I was like, 'What am I doing tonight?'
She wanted to wear a different look, focusing on the Darling darkness theme and was often named the queen of the event because of her various styles of clothing worn.
---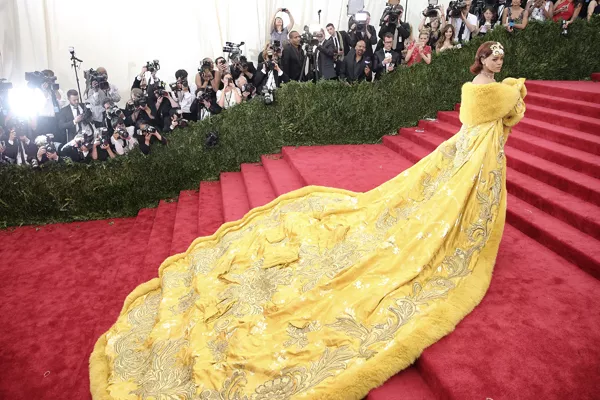 Rihanna wore a Guo Pei dress and was controversial at the 2015 Met Gala (Reproduction/Getty Images)
---
She has already been dressed as a cheeseburger and candlestick, attracting attention wherever she went at the party, showing that everyone can create their own fashion and does not need to follow the others who wear ordinary dresses to the eyes of other funders.
This year's theme is called 'In America: An Anthology of Fashion', built on American principles and celebrates unsung heroes of US Design, this event has been taking place since 1948, which aims to raise money for the Metropolitan Museum of Art in New York.
Its hosts are Blake Lively and Regina King who arrived with extravagant and very luxurious looks, made by internationally renowned brands, the only members of the British royal family to appear at the party were Lady Di in 1996, a year before she died and Princess Beatrice in year 2018.
At the time, Prince Charles' ex-wife wore a navy blue satin gown that looked like lingerie, leaving conservatives in shock that a member of British royalty wore something inappropriate and that she should have worn something less flashy.
Beatrice wore a long purple dress by Italian stylist Alberta Ferretti, Princess Di's dress was made by stylist John Galliano, who designed it for Dior, the party holds 600 people and filming is prohibited at the event, few risked taking a photo at the event. In 2017, Kylie Jenner posed for a selfie with her sisters Kendall and Kim Kardashian in the bathroom.
Featured Photo: Katty Perry wearing an Oscar La Renta dress (Reproduction/Getty Images)