We concluded last week with an article that highlighted all the current fragility of the world financial system.
As of this writing we have had some shared reports over the weekend that a large bank is in dire straits. Nothing will probably happen, they know how to fix their toys using taxpayers' money.
We've been warning you for weeks … Investors nervousness awaiting the opening of the stock exchanges. "Serious problems for a large international bank" https://t.co/1qGW04ynbe on @everyday occurrence

– Andrea Mazzalai (@icebergfinanza) October 3, 2022
Some signs were evident, others we perceived for some alerts that came directly from some important institutions.
No, it's not just Credit Suisse, there's more!
For the moment they are buffering very well, but we do not know how long they will be able to do so.
Last week I suggested that earlier this month the reaction should have been vehement to avoid a market collapse, for now European markets have responded by moving away from new annual lows made overnight.
OPEC sources suggest a maxi cut in production, terrified by the collapse in the price of oil producing countries, we are close to the limit that would make their jewel disappear.
In the meantime, in America the data relating to ISM Manufacturing, Services and especially on Friday the employment data will be released.
Plus construction costs, remember the August boom joke with over 28% growth in new homes sold?
As Redfin reports, rates have soared close to 7%, even beyond, and the average mortgage payment has risen by $ 337, to a new high of $ 2547.
Since the sales of new homes are recognized at the conclusion of the contract many will be carte blanche, the transactions will fail.
(1/5) As mortgage rates reach a new high since 2007, more homebuyers are delaying or canceling their buying plans altogether.

Sellers are also backing out, causing new listings to hit their lowest level since February. #housing

– Redfin (@Redfin) September 29, 2022
Prices will collapse, taking guarantees and banks, borrowers and the entire economy with them.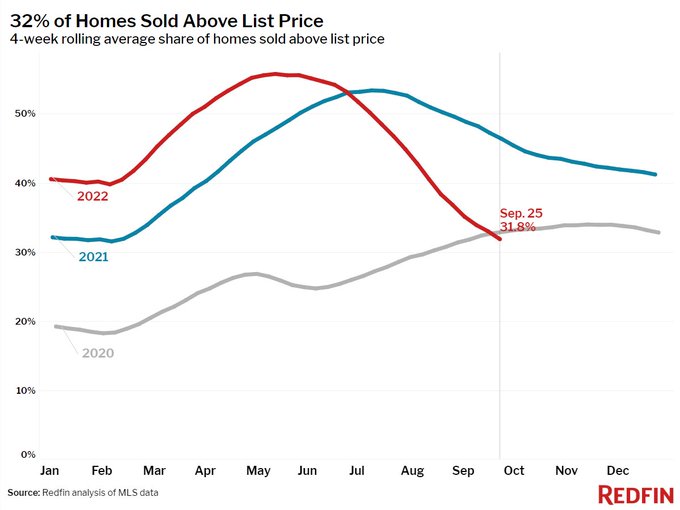 We are in October one step away from the mid-term elections, Biden needs positive data and the "adjustments" will be on the agenda for us.
Just look at what happened at the GDP Now of the Atlanta fed, a miracle …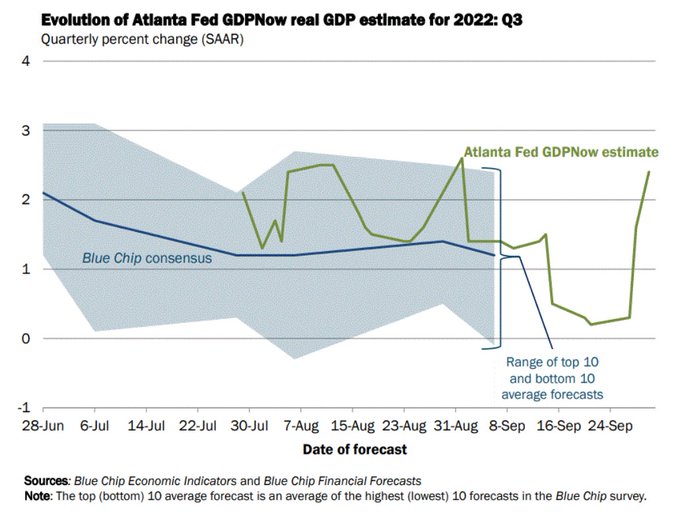 They invented spending for spectacular consumption in August, incomes that fly and so on, but there is no hurry, the truth is the daughter of time!
The BEA reports that spending and income rose in August with negative spending revisions and positive income revisions in July.
Personal income rose at a steady pace of 0.3 percent in August, in line with Econoday's consensus estimate. pic.twitter.com/2rRJHzFIC5

– Econoday, Inc. (@Econoday) September 30, 2022
Then, since you cannot "fix" everything, you discover that the first American manufacturing district has collapsed well below the line that demarcates the contraction from the expansion …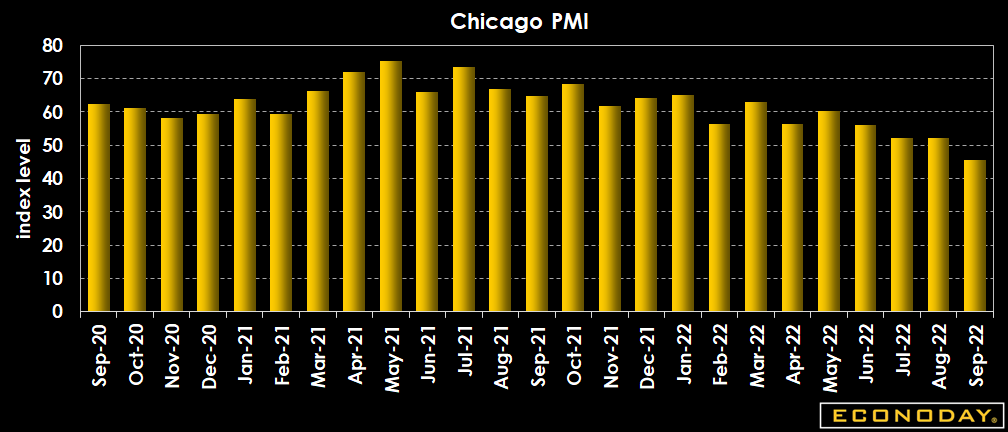 Meanwhile, Lula's great victory in the Brazilian elections is postponed until a later date.
In England, eyes are on the Truss government and the pound, while British Steel is also in serious trouble.
British Steel owner reportedly asking for urgent financial help from government https://t.co/VkTTGLpGSi

– The Guardian (@guardian) October 1, 2022
Credit Suisse's CEO said the company is at a critical time, but fundamentally solid as always, a solid foundation of capital and liquidity.
Probably nothing will happen, today no bank can fail anymore, with the unconditional and trillion-dollar support of central banks.
They would rather bankrupt a state than one of their shareholders.
In recent weeks the world bond markets were out of control, the central banks know it, if the system jumps they too jump, so it won't be long before the Fed will return to giving liquidity to the Wall Street psychopaths, even if in reality it is not there. 'has never taken off.
Balance sheet of the US Fed US Treasury securities: Notes and bonds, nominal: week average, remained unchanged at USD 4,883 bn in the week of 28 Sep 2022.#fintwit #economics #finance #forex #investing #macro #economy #eurusd #fed pic.twitter.com/UH01up8cCW

– themacrotweet (@themacrotweet) October 3, 2022
Hunt for Red October, it is already time to write the next manuscript, a title that reminds us of 2018, yes but also 2008, from there we will start again.
To remain independent and fuel our passion, we also need your precious support!
The new Machiavelli is out, entitled "FIRE AUTUMN '" for all those who have contributed or will want to contribute to our journey.
The manuscripts from the beginning of the year have been a perfect compass after a period of crisis, but as always the truth is the child of time.
I repeat for the umpteenth time that if there are reception problems, firewalls, spam, communication between the different providers due to multiple sending, just send an email and our STAFF will solve the problem.
Thanks to those who want to contribute freely to our trip!
SUPPORT OUR TRIP FREELY!
At this address our PUNTOSELLA will update his personal monthly column in the comments …
PUNTOSELLA KINEMATICS CORNER
I remind all those who need that ICEBERGFINANZA is also a 360 degree consultancy, in the midst of this perfect storm.
By clicking on the link below and sending an email to icebergfinanza@gmail.com it is possible to have strategic advice on possible macroeconomic and financial developments in the coming months, as well as to receive our manuscripts. Good day Andrea
Anyone wishing to support our trip will receive Machiavelli's analyzes for FREE. To contribute to our journey just click ON THE BANNER next to the posts on the right side of the page or go to the DONATIONS section …
SIMPLY THANKS!