Juan Jesus, Napoli defender, gave an interview on the eve of the match against Sassuolo to the microphones of Radio Kiss Kiss Napoli.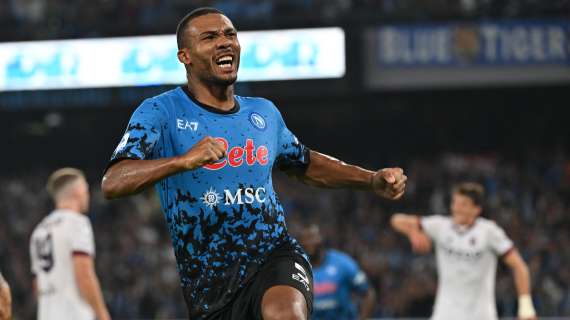 TuttoNapoli.net
© photo by www.imagephotoagency.it
Juan JesusNapoli defender, gave an interview on the eve of the match against Sassuolo to the microphones of Radio Kiss Kiss Napoli: "Here the team really counts, it counts to achieve a result, it counts to enter well. We have also seen with the Rangers, whoever entered did very well and did not miss anyone. Whoever enters does well, enters in the dynamics of the match, and this is a beautiful thing ".
Five out of five in the Champions League with 20 goals scored: a beautiful course. "Yes, very nice. When the group came out everyone said it was tough for Napoli, that there was Liverpool, that there was Ajax, but no one said that there was Napoli. field what we are worth, leaving out the chatter. Now we are going to play at Anfield as if it were the first match in the Champions League. "
How important is it to finish first in the group? "It is important because then we can play the second at home, perhaps making the first result away. But the second home game counts in which we would have the support of our fans."
Is this Napoli the strongest team you have played in? "I can't say it's the strongest because one year at Roma we had a very strong team and I'm sorry we didn't win trophies that year there, with Totti, De Rossi, Strootman, Salah, Alisson, Perotti, El Shaarawy, Emerson, Gerson . A very strong team. Not that this Napoli is not, we have young and strong guys. They are different years and these are two good teams. "
About Kim. "He is a very powerful player, strong in his head and also technically. He is amazing everyone. He is not someone who comes from a team that everyone knows, no one had seen him play before. Director Giuntoli was very good at going to catch him. ".
Is the victory with Roma worth more than three points for how did it come? "Winning head-to-head matches in a championship like this is worth half a point more because they make a difference. We played a bit of a dirty game, but we scored, kept the ball and confirmed what we have done so far in the championship."
Is Napoli ready for Sassuolo? "We are always ready, we always do our job. Even if the matches are close together and not much can be done, it was a good training and tomorrow we will do our best."
Do you all feel owners? "There is a great group, not that last year there was not: if we are in the Champions League today it is because last year we had a good championship, we were as good a group as this one. Now, however, there is still a long way to go, we are just in October. This group gives a lot, all the guys give 100% for Napoli ".
Will the direct clash with Atalanta be important? "Let's think about Sassuolo now and do our best for the three points. Then it will certainly be very difficult in Bergamo, Atalanta are in good shape. If we play against Sassuolo, however, we can't think of Atalanta. Now let's think about Sassuolo, then about the other".
How's Anguissa doing? "Is fine".
What are your expectations for the Brazilian World Cup? "Huge. Brazil are among the strongest national teams, with top goalkeepers, defense and midfield very strong, not to mention the attack. I think Brazil can win the World Cup this year and reach six stars."
Kvara is impressive despite her young age. "Today it does not matter to have a certain age for experience. In football you grow up and become men much earlier, we have responsibilities to take care of many things, starting with the family. You become men first, so you must have personality and character ".
Always end your posts with the very Neapolitan 'Jamm ja'. "A friend of mine had this nice idea: since I am JJ, let's say Jamm Ja, who in Naples says it all. It's a good thing".