The framework for the other groups is not yet defined. The loose cannon could be PSG if it were to finish second behind Benfica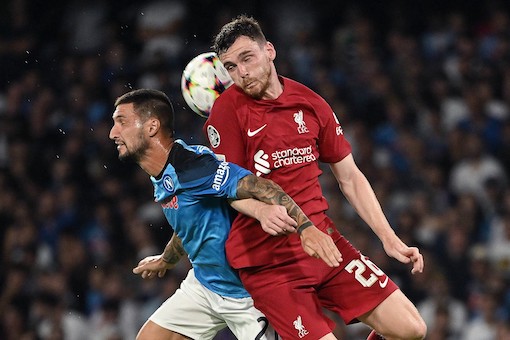 There Napoli 07/09/2022 – Champions League / Napoli-Liverpool / photo Carmelo Imbesi / Image Sport in the photo: Andrew Robertson-Matteo Politano
Napoli is first in the group if… It will be enough not to lose in Liverpool with a difference of four. Napoli beat Rangers 3-0 tonight, 15 points in the standings. Liverpool have won 3-0 at Ajax and are on 12 points. Napoli have a goal difference of seven goals higher than Liverpool and won 4-1 in the first leg. To finish first, Napoli obviously can win, draw, and even lose up to three goals in Liverpool.
Napoli first in the group would be very important.
The first and second places in the group have not yet been defined.
For now, Bayern are certain to be first. As well as Chelsea and City. Real not yet, they have to beat Celtic at the Bernabeu. Certainly the elimination of Atletico Madrid who missed the decisive penalty with Carrasco in the 99th.
It is not yet known who will finish first between Benfica and PSG and PSG in the event of second place would be the real loose cannon.
Obviously if he were to finish first, Napoli could not face Inter and eventually Milan in the round of 16. It is too early to reckon.
Napolista
ilnapolista © reserved reproduction