After the NATO-Russia talks, the head of the Alliance, Jens Stoltenberg, announced that NATO called on the Russian side to respect Ukraine's sovereignty and to de-escalate at the country's borders. As he added, the allies reaffirmed the open door policy for new NATO members. "Russia has no veto," he stressed. In response to a question from one of the journalists, he stated that "there is a real risk of a new armed conflict in Europe", but NATO will do whatever it takes to resolve this issue through diplomatic means. He stressed that if Russia attacks Ukraine again, the allies would consider the possibility of sending additional troops to the countries of NATO's eastern flank.
On Wednesday after 10, a meeting of the NATO-Russia Council devoted to Ukraine began in Brussels. "This is an opportunity for dialogue at a critical moment for European security. When the tension is high, it is important that we sit down at one table and discuss our concerns," North Atlantic Alliance chief Jens Stoltenberg wrote on Twitter after the talks began.
Call on Russia to withdraw troops from Ukraine, Georgia and Moldova
At the press conference following the NATO-Russia talks, the head of the Alliance said that "it was not an easy discussion". He stressed that there are differences between Russia and the members of the Alliance as regards Ukraine and "it will not be easy to break them".
– NATO allies have expressed serious concern about the Russian troop pooling around Ukraine. Russia was called on to de-escalate immediately and to respect the sovereignty and territorial integrity of its neighbors, he said. Stoltenberg also said that NATO called on Russia to withdraw its troops from Georgia, Moldova and Ukraine.
Stoltenberg stressed that NATO reaffirmed its policy of open doors to new members. – The allies agree that only Ukraine and 30 allies can decide if and when Ukraine can become a NATO member. Russia has no veto right, he stressed.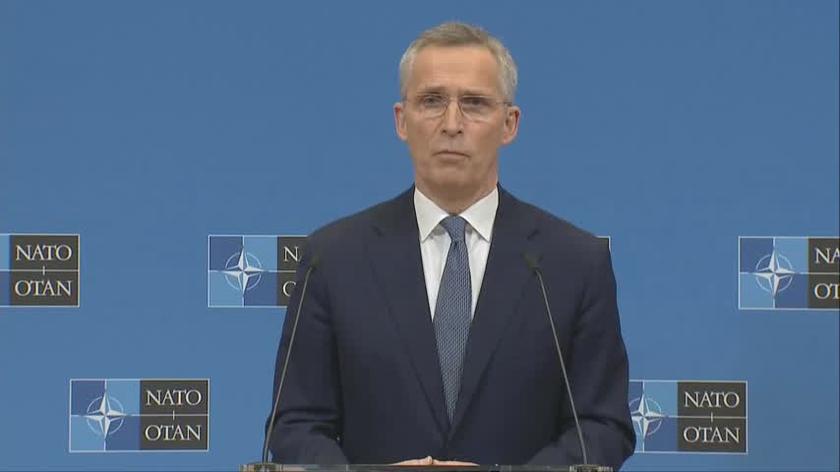 Stoltenberg stressed that "the perception that NATO enlargement is proceeding aggressively is absolutely untrue."
He noted that the Alliance had presented Russia with a proposal for a series of joint meetings in the near future, but – as he added – the Russian side asked for time to respond, as it was not ready to provide it.
Stoltenberg said NATO allies would not give up their core, core values ​​and explained that they would try to do everything they could to resolve the current tensions diplomatically.
NATO chief: if Russia attacks Ukraine again, we can send more troops to the eastern flank
The head of NATO also said that during the talks, Russia presented its second – apart from the Alliance's assurance that it would not expand to the East – the withdrawal of NATO troops from the countries that joined him in 1997 and later.
Stoltenberg noted that the Alliance "will not go back in time" and such a decision will not be made.
Answering journalists' questions, the head of NATO said that "there is a real risk of a new armed conflict in Europe", but NATO will do everything to prevent it and stressed the need for dialogue and diplomacy in this matter.
– If Russia uses force against Ukraine once again and there is a further invasion, then we will have to seriously look at the need to further increase our presence in the eastern part of the Alliance – emphasized Jens Stoltenberg.
Peskov: Moscow does not set an ultimatum
During the meeting, Kremlin spokesman Dmitry Peskov, who was not present in Brussels, stressed that Russia did not offer any ultimatums in talks with the West, but needed specific answers to its security concerns. – We don't talk from a position of strength. The president (Vladimir Putin) said that there could be no room for any ultimatum here, Peskov told journalists.
He noted, however, that the situation in the sphere of European security and Russia's national interests, which constitute "an inalienable part of Europe and the architecture of European security", has reached a critical point where it is no longer possible to delay and specific answers to the concerns expressed by Russia must be given. – In recent days, we can see that the background for the ongoing talks on security guarantees are the aggressive declarations of the authorities in Washington, which of course draws our attention. Although we understand why this is being done, said Peskov.
He stressed that NATO is a tool of confrontation and that is why Russia is concerned about any enlargement of this alliance. – NATO is not a development institution, NATO is a confrontation tool. This alliance was conceived in such a way, it was designed in this way, it was created in this way, it develops in this way and functions in this way – he said.
Peskov added that Russia will continue to organize maneuvers on its territory, which are an accepted practice for the armed forces of any country and have nothing to do with talks with the West.
Russian-American talks
On Monday, talks between the US and Russian delegations took place in Geneva as part of the dialogue on strategic stability. Their background was the concentration of Russian troops on the border with Ukraine. The American delegation was headed by Wendy Sherman, Deputy Secretary of State, and Sergey Ryabkov, Russian Deputy Minister of Foreign Affairs. It was the beginning of a series of meetings between representatives of the US, NATO and OSCE (scheduled for Thursday) and Russia.
As Wendy Sherman said after the talks, the US presented Russia with proposals on the deployment of missiles and the limitation of military exercises. The American side, however, rejected Russia's demands to end NATO's open door policy. During the meeting, the US representative also called on Russia to withdraw some 100,000 Russian soldiers deployed near the border with Ukraine. The diplomat also stated that the Russians assured that they had no intention of invading Ukraine, and that the concentration of troops around Ukraine was related to military exercises.
Sergey Rabiakov described the talks as "difficult, deep and concrete". The deputy head of the Russian Ministry of Foreign Affairs added that the US "seriously approached" the Russian proposals. "However, he said that" the most important issues remained on hold. "Ryabkov mentioned Russian demands not to enlarge NATO, which he described as" fully justified. " We have explained to the Americans exactly the logic and content of our proposals, why it is an absolute imperative to receive a guarantee of non-enlargement of NATO, why we must necessarily obtain legal guarantees not to place certain offensive measures at Russian borders and why we raise the issue of NATO's resignation from material taming of territories that joined NATO after 1997 – said Ryabkov, quoted by RIA Nowosti.
Main photo source: OLIVIER HOSLET / POOL / EPA / PAP