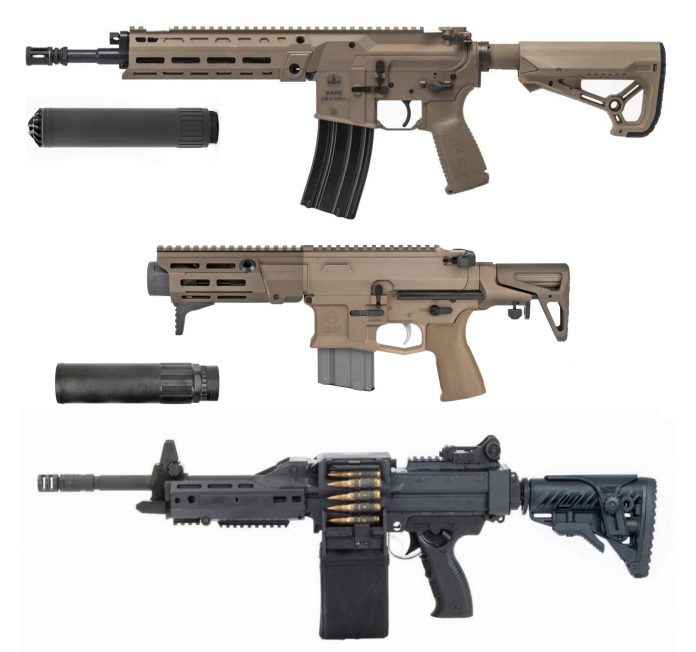 On the official page of the General Secretariat of Defense and National Armaments Directorate, Terrestrial Armaments Directorate (Terrarm), an interesting "Determine to contract" appeared in favor of the Air Force General Staff: the procurement of light armament (multi-caliber rifles, personal defense weapon (PDW) and ultralight machine guns, designed to complete and extend the current operational capabilities of the Air Force Special Forces.
Specifically, it would be:
– 5.56 × 45 mm / .300 BLK multi-caliber rifles and relative suppressor
-personal defense weapon (PDW) caliber .300 BLK and relative suppressor
– ultralight machine guns caliber 7.62 × 51 mm.
From the attached documentation we learn: "The multi-caliber rifles are intended to equip the operators of the Aeronautica Militare Special Forces with versatile platforms suitable for operating, by means of barrel changes, with caliber 5.56 NATO and caliber .300 Blk, more suitable for use in urban contexts. The Pdw in caliber .300 Blk is configured as an automatic weapon that is concealable while ensuring high performance in terms of terminal ballistics. The 7.62 × 51 caliber ultralight machine guns are designed to equip operators with versatile platforms, equipped with two barrels of different lengths (13 "and 16.5"), adjustable telescopic stock and both automatic and semi-automatic firing modes, for adapt to different operational needs, guaranteeing large volumes of fire even with reduced dimensions and weight. "
The pages also add: "For the aforementioned procurement, a negotiated procedure will be carried out without prior publication of a tender notice (pursuant to Article 18, paragraph 2 let.d of Legislative Decree 208/2011) with the Company Trade Company Srl, identified as exclusive distributor of Iwi Ltd., Maxim Defense Industries Llc., Cgs Suppressors Llc. and Oss Suppressors Llc., producers of the material in question ".
The weapons
Multi caliber rifle: this is the Iwi Arad, an Ar 15-style platform but with important differences. First of all operating system with gas piston short stroke, two gas settings (normal and suppressed), monolithic upper receiver with quick barrel replacement system, ambidextrous controls.
The "base" version in 5.56 × 45 uses an 11.5-inch (292 mm) barrel, overall measures 720 mm with stock retracted and 800 mm with extended stock, empty weight of 2,850 grams and firing rate of 700 – 1,100 rounds / minute: In addition, a 9.5-inch (241.3 mm) barrel is supplied, chambered in .300 Blk. The sound moderator for the .300 Blk caliber is the HuxWrx (formerly Oss) Hx Qd 762 Ti: made of 17-4 ph stainless steel and grade 5 Titanium, it uses the flow-through and weighs about 411 grams.
Pdw: it is the Pdx of the American Maxim defense caliber .300 Blk with a 5.5-inch (140 mm) barrel, 476 mm overall length with closed buttplate and a weight of 2,580 grams when empty. The sound moderator used here is the Cgs Group's Helios Qd (Quick detach), built with 17-4 ph stainless steel and Inconel 718, weighs approximately 538 grams.
Ultralight machine gun: this is a relative novelty, the 7.62 × 51 caliber Negev 7 Ulmg in fact, is not yet much advertised by the Israeli company. The base is obviously the Negev Ng7 but in the Ulmg (Ultralight machine gun) solutions have been found to save weight: in the version with a 16.5-inch barrel it weighs 6,600 grams (6,400 grams in the 13-inch barrel version), however, without bipod, handles and carrying handle. The length is 920 or 830 millimeters depending on the length of the barrel and with closed telescopic stock (also equipped with cheek rest). The weapon is belt fed with disintegrating links, housed in a soft pouch with a capacity of 60 or 120 shots, the rate of fire is 600 – 800 shots / minute.