The video published on Tik Tok spreads like wildfire. Napoli seems to be a really healthy group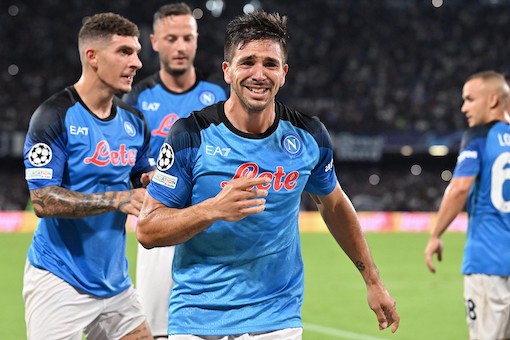 Ci Napoli 07/09/2022 – Champions League / Napoli-Liverpool / photo Carmelo Imbesi / Image Sport in the photo: exultation goal Giovanni Simeone
On Tik Tok, the social network of the very young, a video that portrays the Napoli group celebrating the victory against Rangers under the curve has spread like wildfire. What immediately catches the eye is the behavior of Victor Osimhen, who pushes (in the true sense of the word) his partner Giovanni Simeone to take the ovation and applause of the curve. Simeone scored a memorable double, four goals in his first four games in the Champions League. Before him, only one other Argentine had succeeded: his father Diego.
It is a beautiful image because it portrays a healthy group. Simeone, before yesterday's great match, had only been on the bench in the three previous matches (Ajax, Bologna, Rome), that is, he had only been on the bench since Victor's return to the group. Yet there is no rancor: there seems to be an excellent relationship between the two.
@irenepaparone But how beautiful are they? 💙 #forzanapolisempre #napolirangers #ucl #napoli [No Copyright Infringement Intended]@SSC Napoli ♬ original sound – Irene Paparone
In the analysis of his double, Antonio Pironti wrote on the Napolista that Simeone's commitment and effort are rewarded by a qualitative context that allows him to improve. "The medals you win in training. In the game, you only go to collect them ".
«Don't worry football connoisseurs with a fine palate: I too – writes Pironti – liked Van Basten and Romario, Careca and Bruno Giordano, Batistuta and Raul, I also like Mbappe and Haaland, Messi and Cristiano Ronaldo. I don't have, we don't need connoisseurs with a fine palate to understand that these are the champions, that is, they are other than Simeone. Here, however, we are not discussing such excellent and excellent technical / physical skills that alone could be enough to win a game or overcome the opponent regardless of his strategy. Here we discuss how each of us can, given a minimum talent, lean on others, or rather consider others a source of exaltation, improvement or improvement of the same. Both thanks to a (qualitative) team context that knows how to enhance it: because when you have teammates who are able, with a glance, to understand that you are attacking that space, who are able to start the ball a moment before yours. sprint (which you are also about to execute) without sending yourself offside, with the strength and the right trajectory to deliver it to you on the run, and when you have companions who are able to do it for 4, 5 or 6 times per game, here … then that innate talent you have in attacking the space behind the backs of the opposing defenders will be rewarded as it should be ».
Napolista
ilnapolista © all rights reserved