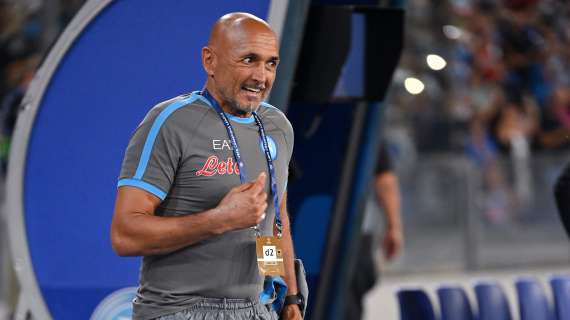 TuttoNapoli.net
© photo by www.imagephotoagency.it
The injury sustained by Matteo Politano is more serious than expected. The exams that the Napoli striker underwent yesterday showed a distraction of the right anterior talar peroneal ligament that could keep him out for about three weeks, although a lot will depend on the evolution of the problem. Bad news for Luciano Spalletti who loses one of the most fit players, just on the day when he finally recovers his deputy Lobotka, Diego Demme, who managed to return to the group by carrying out the entire training session.
It's up to Lozano, but that's not all
Upon returning after the stop it will therefore be the turn of the Mexican. Lozano has missed the last few races due to a flu condition and will finally be able to have continuity to try to return to his level. After starting as a starter, in fact, he was gradually undermined by Politano, who seemed more incisive especially in front of goal. However, it is impossible for the Mexican to play 90 minutes every three days and Spalletti already has other solutions ready.
The other alternatives
More space will also have Alessio Zerbin and Eljif Elmas. The Macedonian from mezzala is closed by Zielinski and Anguissa, the first alternative to the owners after the break should become Ndombele and therefore the former Fenerbahce could also have space on the right, as well as Zerbin, who entered the last race in Milan to cover that role after the exit of Politano
var banner = {"150x60":[{"idbanner":"67","width":150,"height":60,"crop":"1","async":"0","uri":"http:\/\/www.bbquattropalazzi.it","embed":"","img1":"1266588835.gif","partenza":1268175600,"scadenza":1701385200,"pagine":""},{"idbanner":"173","width":150,"height":60,"crop":"1","async":"0","uri":"https:\/\/www.facebook.com\/farmacia.santelenaafragola?fref=ts","embed":"","img1":"2328d1ca61020e3ce2c3ebccb65bf2c1.gif","partenza":-62169986996,"scadenza":1672527599,"pagine":""},{"idbanner":"177","width":150,"height":60,"crop":"1","async":"0","uri":"https:\/\/www.facebook.com\/francescoemilio.borrelli","embed":"","img1":"c6d9d446b7970c7ccf8a91d4f8164241.jpg","partenza":-62169986996,"scadenza":1664139601,"pagine":""}],"336x40_1":[{"idbanner":"175","width":336,"height":40,"crop":"1","async":"0","uri":"https:\/\/www.facebook.com\/francescoemilio.borrelli","embed":"","img1":"52bc60df5deb3dd600244a1a0fb73329.jpg","partenza":-62169986996,"scadenza":1664139600,"pagine":"index"},{"idbanner":"176","width":336,"height":40,"crop":"1","async":"0","uri":"https:\/\/www.facebook.com\/francescoemilio.borrelli","embed":"","img1":"52bc60df5deb3dd600244a1a0fb73329.jpg","partenza":-62169986996,"scadenza":1664139601,"pagine":"!index"}]}; var now = Math.round(new Date().getTime() / 1000); var bannerok = new Object(); for (var zona in banner) { bannerok[zona] = new Array(); for (i=0; i < banner[zona].length; i++) { var ok = 1; if (banner[zona][i]['scadenza']>0 && banner[zona][i]['scadenza']<=now) ok = 0; if (banner[zona][i]['partenza']!=0 && banner[zona][i]['partenza']>now) ok = 0; if (typeof azione !== 'undefined' && azione !== null) { if (banner[zona][i]['pagine'] == '!index' && azione == 'index') ok = 0; else if (banner[zona][i]['pagine'] == 'index' && azione != 'index') ok = 0; }
if (ok == 1) bannerok[zona].push(banner[zona][i]); }
bannerok[zona].sort(function() {return 0.5 - Math.random()}); } banner = bannerok; var banner_url="https://net-storage.tcccdn.com"; var banner_path="/storage/tuttonapoli.net/banner/" function asyncLoad() { if (azione == 'read' && TCCCookieConsent) { var scripts = [ "https://connect.facebook.net/it_IT/all.js#xfbml=1", ]; (function(array) { for (var i = 0, len = array.length; i < len; i++) { var elem = document.createElement('script'); elem.type="text/javascript"; elem.async = true; elem.src = array[i]; var s = document.getElementsByTagName('script')[0]; s.parentNode.insertBefore(elem, s); } })(scripts); } setTCCCookieConsent(); } if (window.addEventListener) window.addEventListener("load", asyncLoad, false); else if (window.attachEvent) window.attachEvent("onload", asyncLoad); else window.onload = asyncLoad; function resizeStickyContainers() { var stickyFill = document.getElementsByClassName('sticky-fill'); for (i = 0; i < stickyFill.length; ++i) stickyFill[i].style.height = null; for (i = 0; i < stickyFill.length; ++i) { var height = stickyFill[i].parentElement.offsetHeight-stickyFill[i].offsetTop; height = Math.max(height, stickyFill[i].offsetHeight); stickyFill[i].style.height = height+'px'; } } document.addEventListener('DOMContentLoaded', resizeStickyContainers, false); // layout_headjs function utf8_decode(e){for(var n="",r=0;r