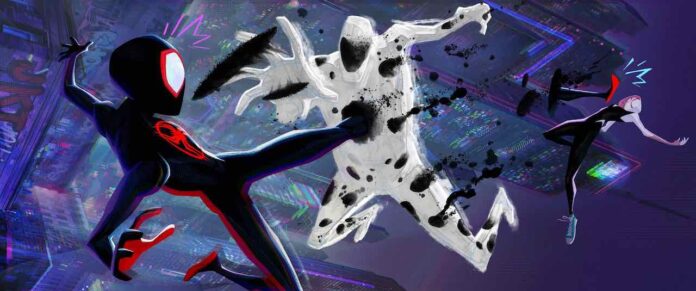 A week after the revelation of the first look at the Macchia, the villain of Spider-Man: Accross the Spider-verse (Part 1)the director of the film, Kemp Powershas released more detailed statements on the character and especially on his costume.
During an interview with CartoonBrew along with his co-directors Joaquim Dos Santos And Justin K. Thompson, Powers noticed an interesting detail about Macchia's appearance. The villain's bizarre appearance is not due to a costume, but to her real skin, which is completely white with dark spots from head to toe that enhance her abilities.
"From the beginning it seemed to have infinite potential, both in terms of the visual aspect and in terms of the narrative arc of the character. Because you know by the way that it's not a costume, that's his skin. From the way he wears it, you know he's not a guy in a polka dot dress. It is actually his skin. So you know, the Dr. Ohnn / Macchia story arc is really complementary, without revealing the story, it completes Miles' journey really well in this movie. "
Spider-Man: Accross the Spider-verse will arrive on June 2, 2023 in theaters in the USA.
Sony Pictures Animation has hired Joaquim Dos Santos (Voltron: Legendary Defender, The Legend of Korra), the Oscar nominee Kemp Powers (Soul) And Justin K. Thompson (Raining meat balls) to direct the film, using a script written by Phil Lord And Chris Miller (who also return as producers along with Amy Pascal, Avi Arad and Christina Steinberg) in collaboration with David Callaham (Shang-Chi and The Legend of the Ten Rings, Wonder Woman 1984).
It hasn't been confirmed yet, but be it Shameik Moore than the Oscar nominee Hailee Steinfeld should return to dub Miles Morales and Gwen Stacy respectively. Most of the actors who lent their voices in the first film are also expected to return, including Jake Johnson, Brian Tyree Henry, Lily Tomlin, Luna Lauren Velez, Zoë Kravitz, John Mulaney, Oscar Isaac And Kimiko Glenn. The villain's voice will be voiced by Jason Schwartzman.