The pre-Christmas period is a good opportunity for those who are looking for a seasonal job. However, no one earns as much as St. Mikołaj – according to the Personnel Service survey.
While many holiday plans are likely to be ruined by the fourth wave of the pandemic, work for St. Mykolaiv should not be missing. – Mikołaj for years is the undisputed leader of the list of earnings in holiday professions – emphasize Personnel Service experts.
A person who performs this function can count on earnings from 25 to even 150 PLN net per hour of work this year. Usually the lowest rates are offered to Santa Clauses in shopping malls, while the highest ones are reserved for "performances" at company Christmas Eve parties or at home parties.
On the other hand, Śnieżynka's remuneration is much worse – they can usually count on PLN 17-50 net per hour.
Experts are not sure how big the demand for Santa Clauses and Snowflakes will be this year. There will certainly be a demand for courier services, however. During the holiday season, such an employee can count on from PLN 17 to PLN 65 per hour.
How much will a seller of Christmas trees earn? How much will a gift wrapper earn?
Christmas trees should also be resistant to the crisis. This year, a Christmas tree seller can earn from 17 to 25 PLN net per hour. Often they also get a special sales bonus. So the more trees sold, the higher the earnings.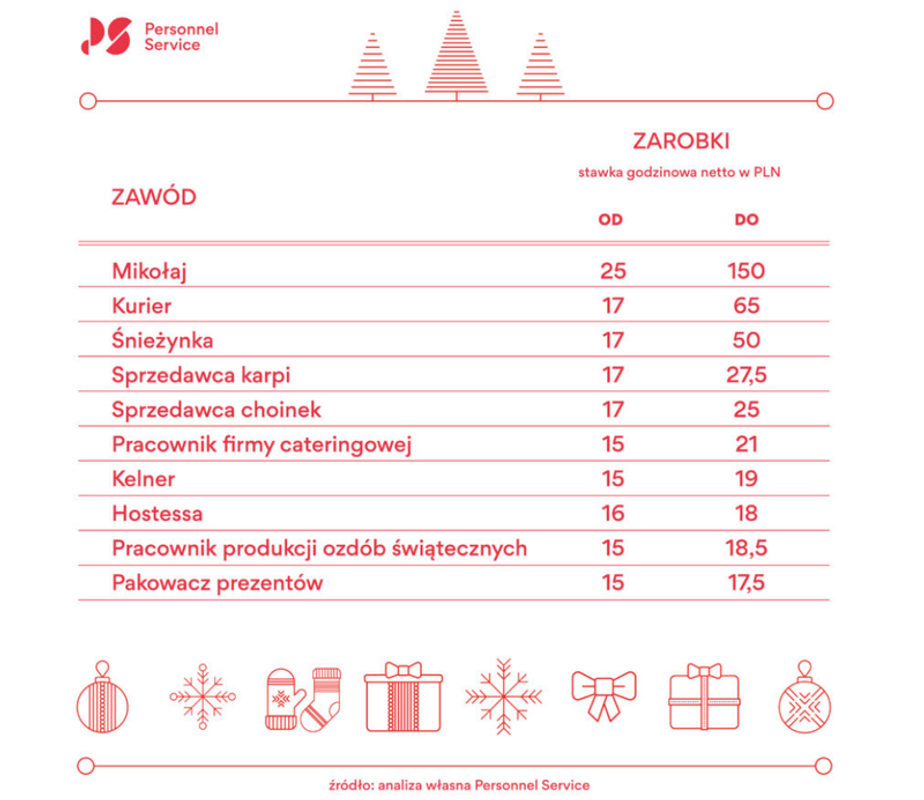 Photo: Personnel Service
Earnings in "holiday" professions

A carp seller will earn similarly to a Christmas tree seller, from 17 to 27.5 PLN net per hour. The nature of work is slightly different for gift wrappers and people who produce Christmas decorations. In the case of these professions, earnings start from PLN 15 and end at about PLN 17.5 net per hour.
See also: There is a shortage of crisps in the UK. All by updating the system