Many Poles are impatiently waiting for Drwal's sandwich to appear again in all McDonald's restaurants. It turns out that the popular "Lumberjack" was pre-premiered in some of the American chain's venues. Officially, the sandwich is expected to return to the full range later this week.
The customers of the McDonald's chain associate the autumn and winter months with the popular Drwal sandwich. Every year, many people go to a popular chain restaurant just to eat "Drwal". It will probably be no different this year, and young people have been asking when the winter menu will be available for some time.
The rest of the text below the video
Official return on November 24
According to the network, the iconic Drwal sandwich is to be available on November 24. A year ago, it was also offered in the last days of November. At the same time, according to reports from Internet users, the sandwich has already appeared on sale before the premiere.
See also: Elon Musk wants to reduce the risk of humanity's extinction. Dinosaurs with headphones as a warning
In the account on @foodnewspolska on Instagram a photo appeared suggesting that Drwal's sandwich is now available for sale in some McDonald's restaurants, one of which is located in Warsaw's Wilanów district.
The photo shows that the Drwal sandwich is available in several flavors, incl. with chicken, cranberry or spicy. You will have to pay PLN 17.4 for a regular sandwich. A year ago it was PLN 16.9 In turn, the purchase of a double "Lumberjack" costs PLN 20.4.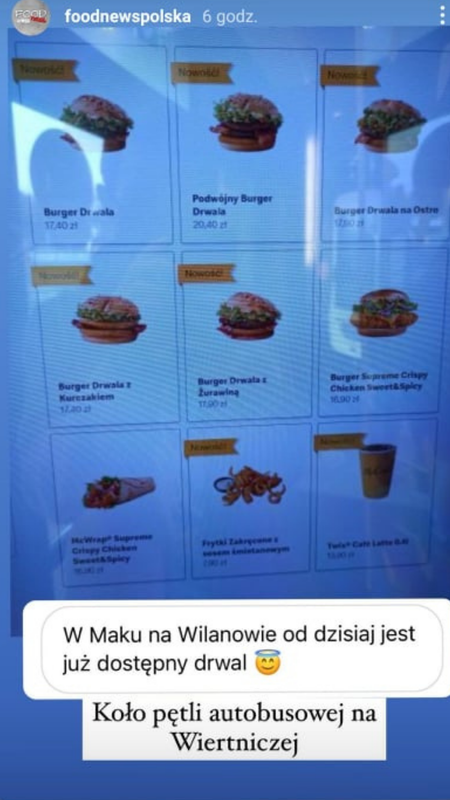 Lumberjack's sandwich

We don't buy "Drwal" in the summer
– It's a solid portion of calories, so November is the perfect time to introduce it – said Adam Pieńkowski, president of McDonald's Polska, about the sandwich in the InBusiness program. He also revealed that a few years ago an attempt was made to introduce the Drwal sandwich in the summer menu, but it did not attract that much attention.
– It was established 12 years ago and every year it was more and more anticipated and it was a kind of celebration – added Pieńkowski.
See also: Prices at some McDonald's restaurants have increased. This is how much more we will pay for fast food products