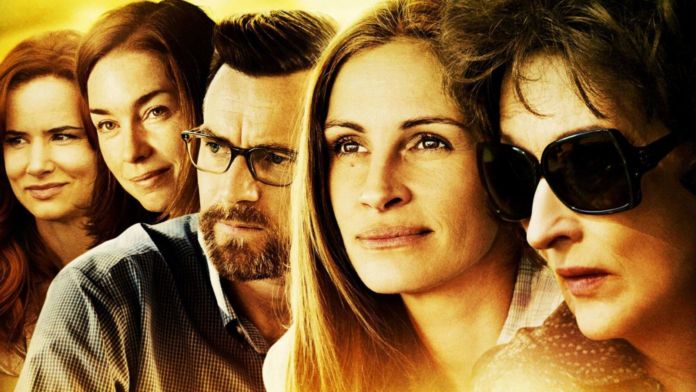 – Advertising –
The Secrets of Osage County, plot and trailer for the film airing tonight Thursday 12 May 2022 at 9.15 pm on La5.
Thursday 12 May 2022 the film will be broadcast on La5 The Osage County Secrets. The film is produced by George Clooney and is based on the Pulitzer Prize-winning play August, "family photo" by Tracy Letts. The appointment is for tonight at about 9.15 pm on La5.
Nominee for 2 Oscars in 2014, 2 Golden Globes, grossed 1.5 million euros in Italy while worldwide the collection was 74 million dollars. The story is that of three sisters raised in the plains of Oklahoma by a poet father and a psychotic mother. When the family reunites, old unspoken secrets come to the surface.
The Osage County Secrets, the plot
Directed by John Wells The Secrets of Osage Country tells the story of an Oklahoma family with a past made up of unpleasant memories. When Beverly, Violet's husband, mysteriously disappears without leaving any trace to the woman with cancer, the old secrets come back to the surface. The daughter Ivy he immediately gathers all the family members to try to find the man and his uncles also arrive Mattie Fae And Charles Aiken. Barbara too, the second born, is reunited with the family with her husband Bill Fordham and his daughter Jean. The family quickly realizes that their marriage is now just a farce.
Beverly actually died while on the boat. Karen also arrives at her funeral, the latest Weston sister with her boyfriend Steve who, as soon as she sees Jean, accuses her of smoking marijuana. During the lunch after her funeral, Violet, under the influence of the drugs she needs to treat her cancer, attacks everyone present. Days go by and the three daughters look for alternative care for their mother, also starting to wonder who among them will have to take care of her while remaining in Osage. Everything gets complicated when the incestuous relationship between Ivy and Aunt Mattie Fae's son turns up. "Little" Charlesdespite the kinship …
Where can I find it in streaming? When do you replicate it on TV?
The film, The Secrets of Osage County is available for streaming on Prime Video and on Mubi. Alternatively, it will be visible in live streaming for free on Mediaset Infinity, on the page dedicated to live broadcasts. The film will be available for free on-demand on Mediaset Infinity, after airing, by clicking here.
The trailer in Italian
The Cast
Meryl Streep: Violet Weston
Julia Roberts: Barbara Weston
Ewan McGregor: Bill Fordham
Julianne Nicholson: Ivy Weston
Juliette Lewis: Karen Weston
Chris Cooper: Charles Aiken
Abigail Breslin: Jean Fordham
Benedict Cumberbatch: "Little" Charles Aiken
Margo Martindale: Mattie Fae Aiken
Dermot Mulroney: Steve Heidebrecht
Sam Shepard: Beverly Weston
Misty Upham: Johnna Monevata
Newell Alexander: Dr. Burke
– Advertising –