Matteo has realized a dream, talking to his idol: "He is a golden person, an incredible guy and not the usual VIP. I really made the right choice to choose such an idol! "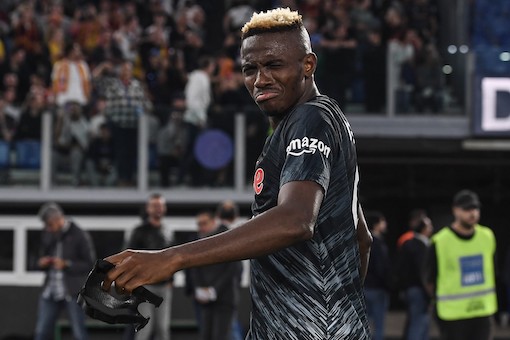 Db Roma 23/10/2022 – Serie A football championship / Rome-Naples / photo Daniele Buffa / Image Sport in the photo: Victor Osimhen goal rejoicing
Osimhen is the steward of Roma.
Serieanews interviewed Matteo Lo Cicerothe young steward, who became the protagonist, unbeknownst to him in the post-match of Rome-Naples
The young Neapolitan with Ethiopian origins, a great fan of Victor Osimhen, was in control on Sunday evening at the Olympic stadium in the area reserved for families after the match. It was his first day on the job.
"After the match I was in the area where the players pass and are awaited by friends and family. I met Oma Akatugba. I asked him who he was waiting for and he told me he was waiting for Victor. Osimhen he is my idol, he was even on the cake of my eighteen years. So I told Oma that my dream was to have his shirt signed or to talk to him for just two minutes and take a selfie. After our chat, I followed Oma to try to meet Victor and that was it ".
The meeting with Osimhen
"After a bit of waiting, I was introduced to Victor: he took me by the arm and I sat next to him, right where he had been sitting just before Tammy Abraham. At that moment my hands were shaking, my dream had come true. I showed him all the photos of him, the videos of him, he really enjoyed. I am obsessed with him, always looking for hidden anecdotes. He even got excited looking at my eighteen year old cake ".
But then the area manager who had seen the scene reported him and from now on he will no longer be able to serve in the matches in which the Rome will play at the Olimpico. The company he works for has not fired him but will continue to call him only for the Lazio matches:
"I asked Victor to take a selfie, I immediately sent it to my parents. They know how much I wanted to meet Victor. After a while, however, a Roma manager arrived who asked me to give her the refectory as a steward and that I would not be able to be with a footballer in my workplace. At that moment Victor got up and asked the woman for an explanation, asking her why she had that reaction: 'He is my brother, he is here with me. Why are you doing so?'. I couldn't accept that they were kicking me out. I told Victor not to worry and that I would leave right away. He asked me "How much are they paying you?" and I tried to calm him down. Meeting him was enough for me, but he insisted. I told him the amount and he started freaking out, he couldn't accept that I was being treated like that for such a figure. He told Oma to write to me, he added that he would take care of the situation and not to worry. He insisted on letting me stay with him, he worried if I was losing my job. He is a golden person, an incredible guy and not the usual VIP. I want to thank Oma, without him it would never have happened. I really made the right choice to choose such an idol! "
Napolista
ilnapolista © reserved reproduction