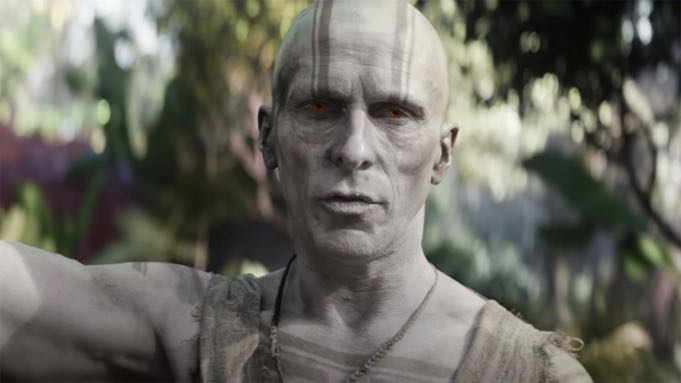 In a recent interview with ComicBook, a Christian Bale was asked what Gorr will look like in the film and how his final appearance in Thor: Love and Thunder. The actor revealed that a number of factors came into play, but that one of the biggest concerns was the costume the character wears in the comics, which is essentially a black thong and cape. The actor also discussed how tight the time between his previous film and the start of work on Thor: Love and Thunder played an important role, as he had just finished a project in which his body was quite lean, "rather lacking in muscle", while Gorr is typically represented with a leaner and more muscular physique.
"I was coming out of a movie where you had to be pretty muscle-less, then I saw the images (of Gorr) and I thought, 'Well, that's not going to be possible… and this thong thing going on over there.' In the comics he physically looked like, you know, someone to deal with. And I said, "Well, you know, that's not going to be possible in the state that I'm in. And we have literally three days between the end of a movie and my trip to Australia for quarantine and stuff like that. " I usually like to have a lot more time between movies, but the pandemic has made things work out that way. So we said, 'Okay, no, we're going to go with the supernatural powers he has, which he gets from the Necrospada, etc,' which I think works really effectively, and, you know, maybe the audience wants to see his ass (by Chris Hemsworth ); they don't want to see mine. So let's just let that thong go – and that decision, thank God, was already made the first time I sat down to talk to Taika… He said, 'No, no, no, no, let's not go there.' "
Thor: Love and Thunder is the fourth chapter on the adventures of the God of Thunder in the MCU, but to wield Mjolnir this time will be Jane Foster, played again by Natalie Portman, as confirmed on Saturday during the Marvel Studios panel at Comic-Con. The theatrical release is set for July 6, 2022.
The film follows Thor (Chris Hemsworth) on a journey different from those faced up to now, in search of inner peace. But his rest is interrupted by a galactic killer known as Gorr the Slaughterer of Gods (Christian Bale), who seeks the extinction of the gods. To combat the threat, Thor relies on Valkyrie (Tessa Thompson), Korg (Taika Waititi) and ex-girlfriend Jane Foster (Natalie Portman) who, to Thor's amazement, inexplicably wields his magic hammer, Mjolnir, like Mighty Thor. Together, they embark on a shocking cosmic adventure to uncover the mystery of Gorr the Slaughterer's Revenge and stop him before it's too late.
Taika Waititi will return to the direction of Thor: Love and Thundera Marvel Studios movie later Thor: Ragnarok, as well as Chris Hemsworth And Tessa Thompson will reprise their respective roles as Thor and Valkyrie after their last appearance in Avengers: Endgame. Also in the cast Christian Bale in the role of villain Gorr the Slaughterer of Gods, e Russell Crowe in those of Zeus. The inspiration for the project comes from the comic book "The Mighty Thor", described by Waititi as "the perfect combination of emotion, love, thunder and exciting stories with the first female Thor in the universe".