Wednesday 4 January 2023 – Television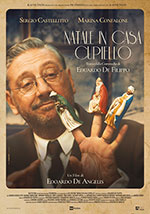 Directed by Edoardo De Angelis. A film with Sergio Castellitto, Marina Confalone, Adriano Pantaleo, Toni Laudadio, Pina Turco, Alessio Lapice, Antonio Milo, Marco Mario De Notaris, Massimiliano Rossi, Andrea Renzi. Genre Drama – , 2020.
Naples, 1950. Christmas day is near and, like every year, Luca Cupiello prepares the crib; it is his perfect world, sheltered from reality, where everything finds its rightful place. But nobody cares. Not his son Tommasino, despite his attempts to seduce him. Not to his wife Concetta, who has something else to think about: the other daughter, Ninuccia, in fact has decided to leave her rich husband Nicolino for the man she has always loved, Vittorio, and has written him a letter for communicate it to him. Concetta manages to avoid what would be a disaster for the family, but the letter falls into the hands of Luca who, unaware of everything, delivers it to his son-in-law. Thus Nicolino discovers his wife's betrayal. During Christmas Eve, Luca's carelessness pits the two rivals against each other and reality bursts overbearingly into the crib atmosphere of the Cupiello house. All seems lost, but Luca's crib arrives once again to help Luca, who is dying.
GO TO THE FULL CARD